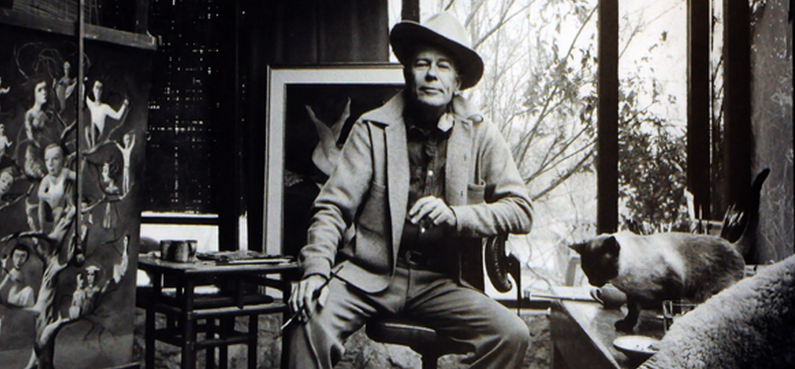 Considered the dean of Arizona artists, Philip Campbell Curtis's quiet, surreal desert scenes earned him a reputation as one of America's most unique and thought-provoking painters. Writers labeled him a "magical realist" and the "Magritte of the Old West." Curtis said about his work, "I treat the canvas as a stage and the people I use belong to an acting company of mine."
One of four brothers, Philip Campbell Curtis was born on May 26, 1907 in Jackson, Michigan. He received a B.A. from Albion College, where art captured his imagination and spurred him to enroll in the art program at Yale in 1932. He moved to New York in 1935 and worked as supervisor with the Federal Art Project in the Works Progress Administration under Franklin D. Roosevelt's New Deal. In 1937, he was sent to Phoenix, where he established the Phoenix Art Center, which eventually became the Phoenix Art Museum. Two years later, the WPA sent Curtis to Iowa where he directed the Des Moines Art Center.
In 1947, at the age of forty, Philip Curtis returned to Scottsdale, Arizona to paint. He set up his home and studio in a converted stable on Cattle Track. His big break came in 1960 when Lewis Ruskin, who served on several Phoenix cultural boards, invited nine other Phoenicians to establish a trust and support Curtis in his work for three years. The arrangement led to one of the painter's most productive creative periods. During this time, he painted more than forty works and was given a solo exhibition at the Phoenix Art Museum. A later exhibition at the Knoedler Gallery in New York established him as one of Arizona's leading postwar artists.
Curtis's paintings can be found in many important private and public collections, including those of Arizona State University, the Smithsonian American Art Museum, University of Arizona, and the Phillips Collection in Washington D.C. His work is permanently exhibited in the Ullman Center for the Art of Philip C. Curtis at the Phoenix Art Museum.