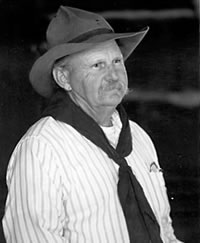 Born in St. Louis in 1937, Jay Dusard was raised on a southern Illinois farm. As an architecture student at the University of Florida, a travel scholarship to study American architecture, coast to coast, was his introduction to the American West.
Dusard spent two years in the peacetime army, using his off-duty hours to "cowboy" near Fort Hood, Texas. In 1963 his cowpunching led him to an Arizona-Sonora border ranch, where he found his best deal ever: "open country, independence, seven bucks a day, bunk and board."
In 1965, while living in Tucson, Arizona, and working in architecture and cartography, Dusard started photographing. A year later in Flagstaff he was working in publishing and regularly aiming his large-format cameras at the landscape. He met photographer Frederick Sommer, who became his mentor and paved the way for him to teach photography for seven years at Prescott College.
A 1981 Guggenheim Fellowship freed Dusard to pursue the working cowboy, buckaroo, and vaquero as a photographic subject. The resulting body of work was published in The North American Cowboy: A Portrait (1983). His second book, Open Country, was awarded third place in the 1994 Photographic Book of the Year competition. Horses was a 2005 collaboration with writer Thomas McGuane.
His limited edition portfolio of twelve digital prints, The California Vaquero, was published by Cattle Track Press (2005). Jay Dusard: Keeping the West Western, a documentary by Michael Markee, was premiered at the Sedona International Film Festival in 2006.
Among numerous venues, his work has been exhibited at the Phoenix Art Museum, Glenbow Museum (Calgary), Colorado Springs fine Arts Center, Consejo Mexicano de Fotografia (Mexico City), Art Museum of South Texas, and the International Photography Hall of Fame (Oklahoma City).
Jay lives with his wife, Kathie, near Douglas, Arizona, where, between trips to photograph and teach workshops, he raises quarter horses, punches cows and plays jazz cornet