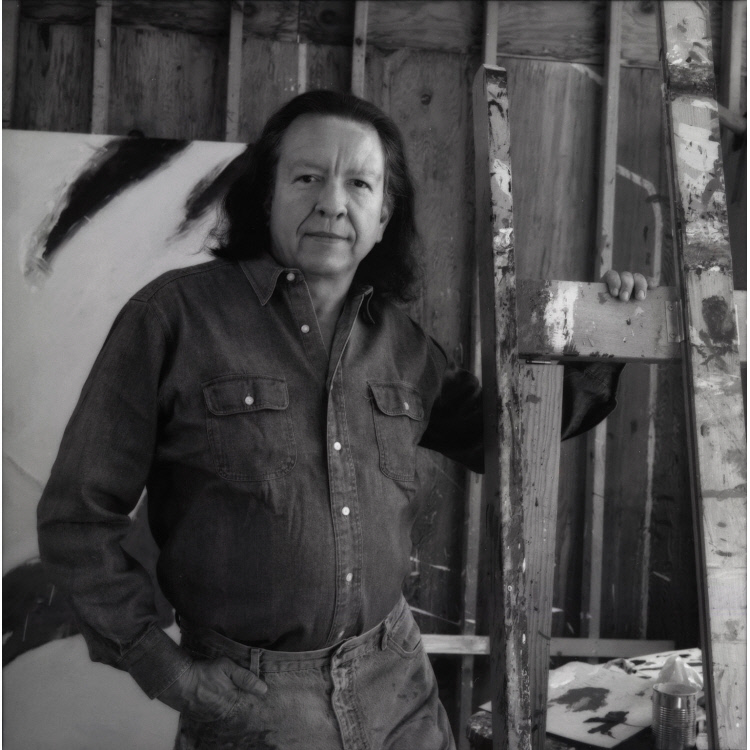 "And this sounds terribly trivial, and it probably is but I'm probably the first person in all of art history to do a painting of an Indian with a cat. Now there have been many paintings of Indians with dogs. But no one, no non-Indian realized that Indians love cats. And that caused a stir, believe it or not. I was the first one to do an Indian wrapped in the American flag. That caused a stir. I was the first one to do Indians holding an umbrella…And I think that art is the vehicle for putting forth and fighting clichés, which we all fall into." -Fritz Scholder
A prolific painter, sculptor, lithographer, and draftsman, Fritz Scholder is widely recognized as the most divisive and decorated Native American artist of the 20th century. Over the course of a decades-long career, Scholder developed an inimitable style by combining techniques of figurative, expressionist, color field, and pop-art painting. Scholder left an expansive, urgent body of work that challenges prevailing notions of representation, identity, history, and the role of fine art.
In 1937, Fritz William Scholder V was born in Breckenridge Minnesota. Although he was an enrolled member of the Luiseno tribe and an instructor at the Institute of American Indian Arts in Santa Fe, Scholder often said that he was not Indian. This paradoxical, ambivalent relationship to associative identity characterizes much of Scholder's best-recognized work. In 1957, Scholder moved to California where he studied with Wayne Thiebaud at Sacramento State University. Thiebaud helped to organize Scholder's first major show at the Crocker Art Museum. After receiving his B.A., Scholder won a scholarship to the Southwest Indian Art Project at the University of Arizona, where he received a Master of Fine Arts degree. Scholder went on to teach at IAIA; during this time, he received prestigious grants from the Whitney, Rockefeller, and Ford foundations.
In 1967, Scholder began his most famous series of paintings: vivid, large-scale portraits depicting the "real Indian" which rejected cliché, nostalgia, and the romanticism of Western genre painting. Fundamentally postmodern, these paintings sought to deconstruct of the myth of the American Indian and interrogate the material and cultural circumstances of contemporary Native American life. Many of these works were deeply controversial, taking poverty, alcoholism, violence, and state power as their subjects. "Sometimes older Indians will say to me, 'Oh why do you paint the Indian so ugly?' But beauty isn't cute or pretty," said Scholder, "ugly can be beautiful." Throughout the seventies, Scholder explored the visual and cultural imaginary of the Indian, always with an eye for color, composition, and continual motion.
Throughout the 80s, 90s, and early 2000s, Scholder continued to work in series of paintings—Mystery Women, Shamans, Flowers. His vast body of work has made him the subject of numerous museum retrospectives, solo gallery shows, books, grants, fellowships, honorary degrees, and awards. His work is held in the permanent collection of numerous museums around country, including the Smithsonian, the Metropolitan Museum of Art, the Phoenix Art Museum, and the Denver Art Museum. Scholder's contributions to contemporary American art are only just beginning to be realized. Larsen Gallery offers Fritz Scholder artwork for sale in the gallery year-round and hosts an annual exhibition of his works. We offer Fritz Scholder original artwork for sale alongside his limited-edition graphics and sculptures.