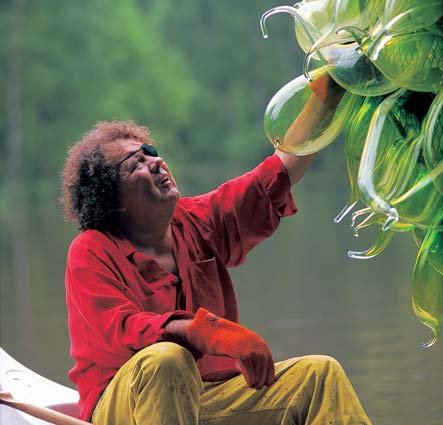 Dale Chihuly, a virtuoso of contemporary glass sculpture, is known around the world for his monumental, intricate blown-glass works. Chihuly's art has pushed the limits of traditional glass blowing, demonstrating glass's ability to function as a medium for large-scale sculpture and installation-size works.
In 1941, Dale Chihuly was born in Tacoma, Washington. After suffering the consecutive losses of his brother and father, he graduated from Woodrow Wilson High School. Chihuly then began to study design at the University of Washington, but, after three years of study, dropped out and moved to Florence to study art outside of the university. At the urging of architect Robert Landsman, Chihuly returned to school and began to incorporate elements of glass into his early work. He graduated from the University of Washington in 1965 with a degree in interior design and went on to study at the University of Wisconsin in Madison with John Littleton and the Rhode Island School of Design. After securing an MFA in sculpture, Chihuly was awarded a Fulbright Fellowship and a Tiffany Foundation grant which he used to travel to Venice and study glass under the Murano masters.
In 1971, Chihuly cofounded the Pilchuck Glass School and founded the Hilltop Artist's program. His work has explored traditional indigenous patterns, global vessel forms, medieval techniques of glassmaking, plants and organic landscapes, Japanese ikebana, and lighting design. After accidents in 1976 and 1979 left Chihuly unable to physically hold a glassblowing pipe, he began to rely more heavily on studio assistants, an approach that allowed Chihuly to work holistically on each sculpture and dedicate more time to design and finesse rather than rote execution.
Chihuly has been recognized for his contributions to the fields of design, fine arts, and glassblowing. He has been the subject of over forty solo shows, and his vibrant, complex sculptures have inspired a generation of glassworkers. Dale Chihuly artworks can be found on display in leading museums, botanical gardens, public buildings, and private collections around the world. Dale Chihuly artworks for sale may be found year-round in Larsen Gallery.